Frequency: 99.9
Call Letters: KSKG
City of License: Salina, KS
Format: Country "99KG"


Owner: Eagle communications
HAAT/ERP: 571ft/100kw
Coverage: Excellent
http://www.999kskg.com

Featured Media
KSKG current logo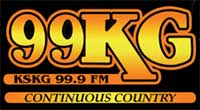 KSKG clip, 1985


KSKG legal ID, 1987


KSKG clip, July 2012



1961-1970? - KAFM - Full Service
KAFM signed on in 1961 as Salina's first FM station, with 3.6kw of power. Salina F-M, Inc. owned the station.

1970?-199? - KSKG - Top 40
KAFM became KSKG around 1970, and the format changed to Top 40. In the 1970s, the station upgraded to 100kw of power.

199?-current - KSKG - Country "99KG"
In the 1990s, KSKG flipped to country. Eagle Communications bought the station in the 1990s, and the station itself was known as Eagle Country 99.9 for a while before becoming "99KG."